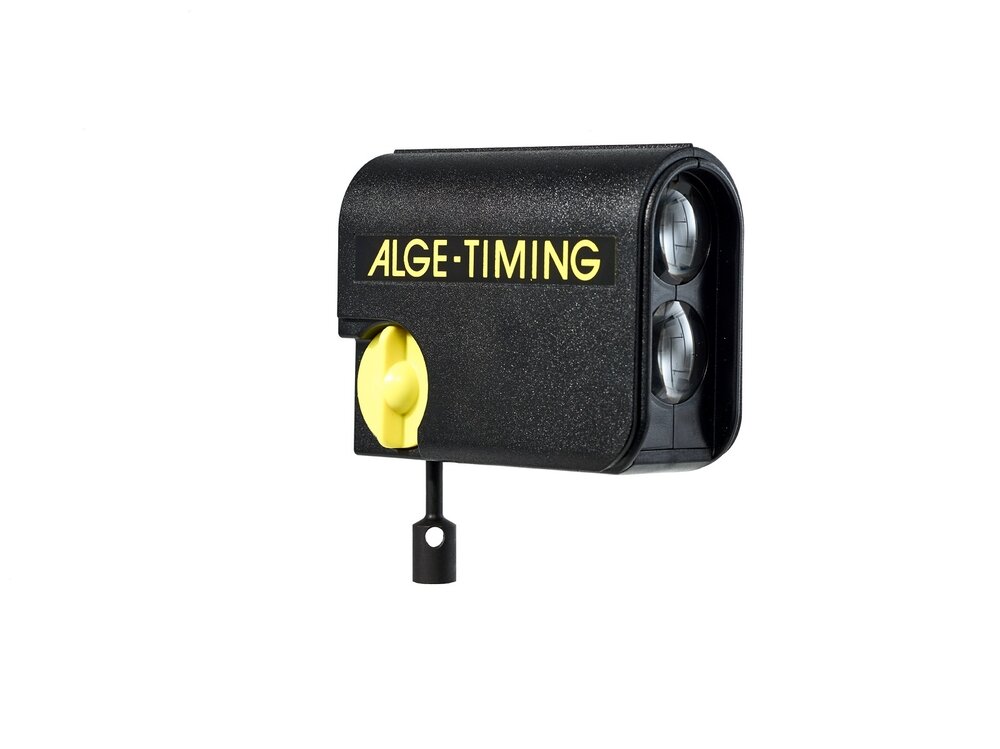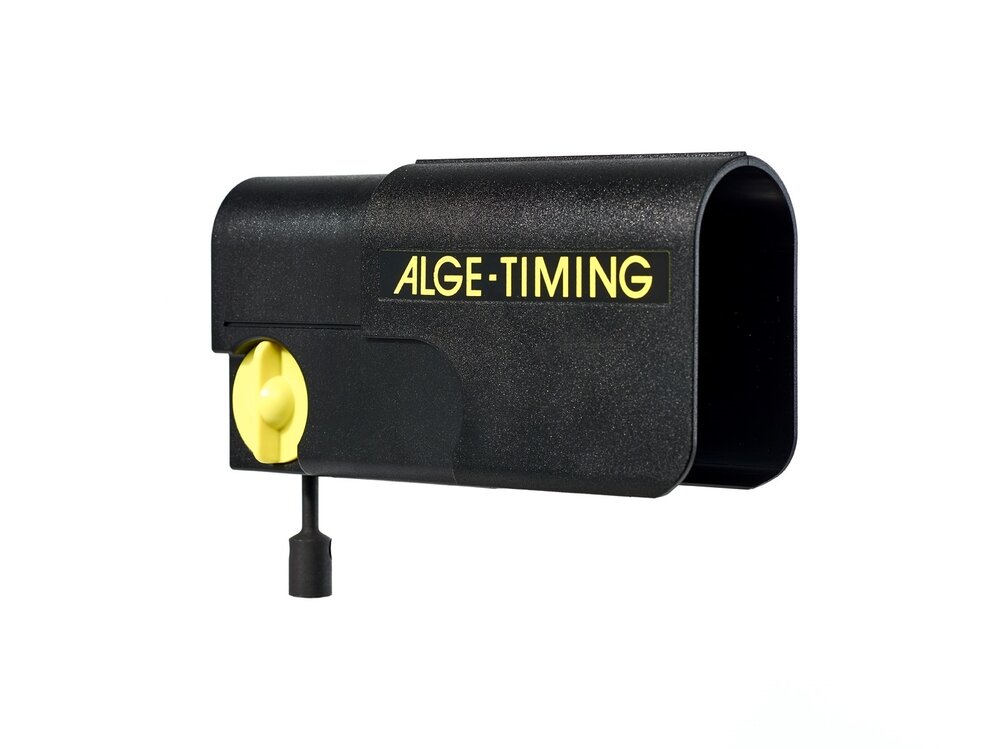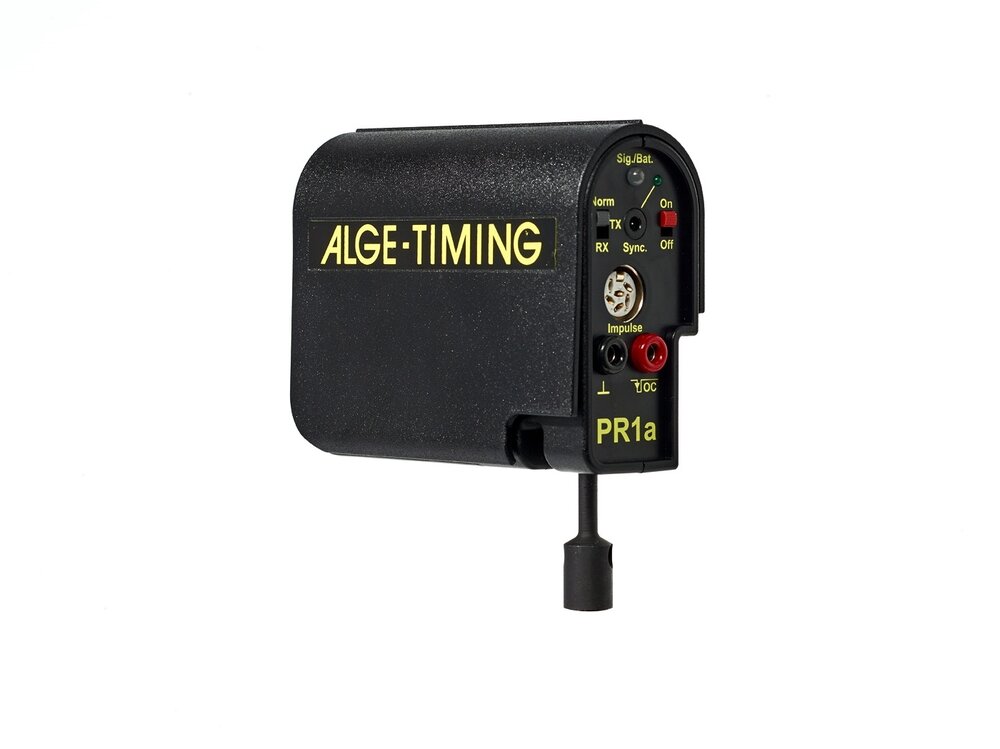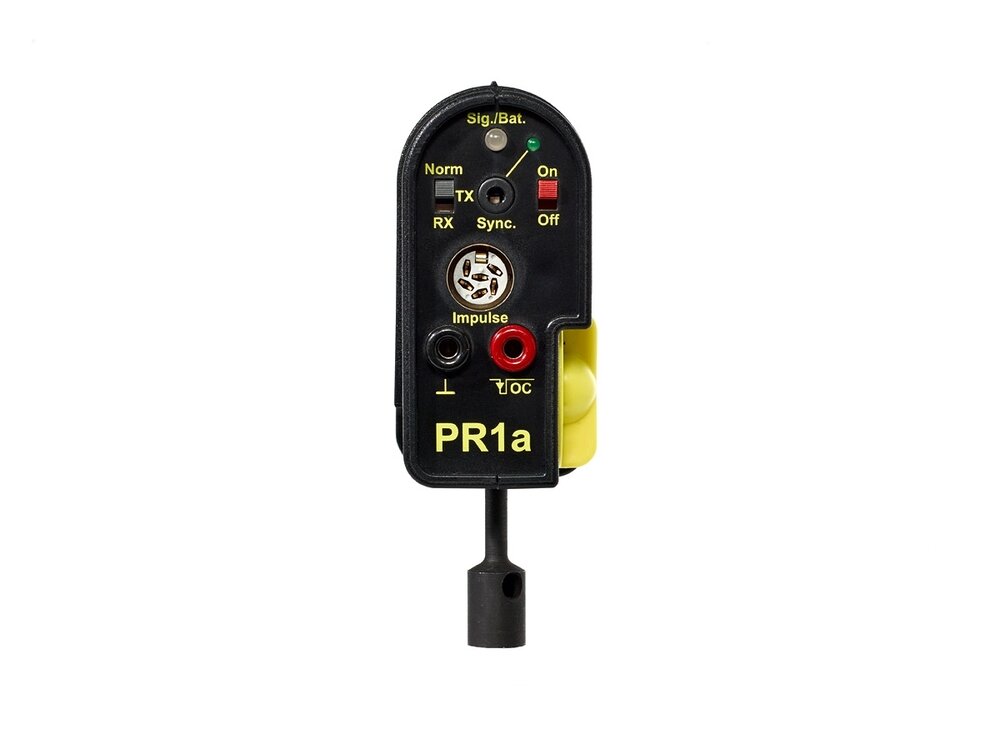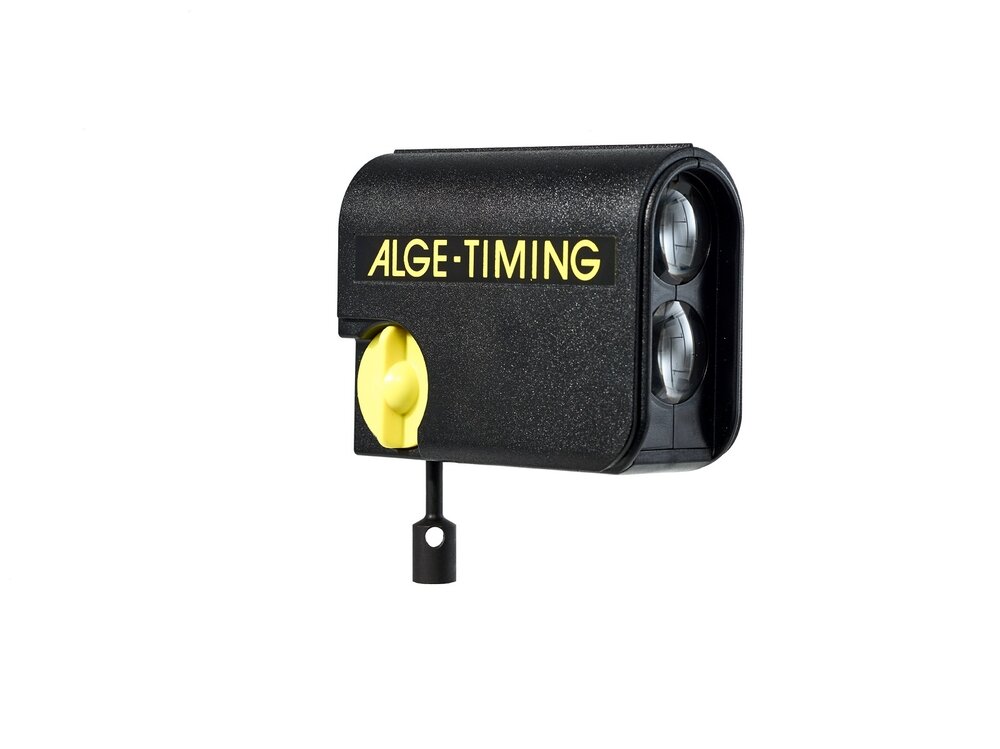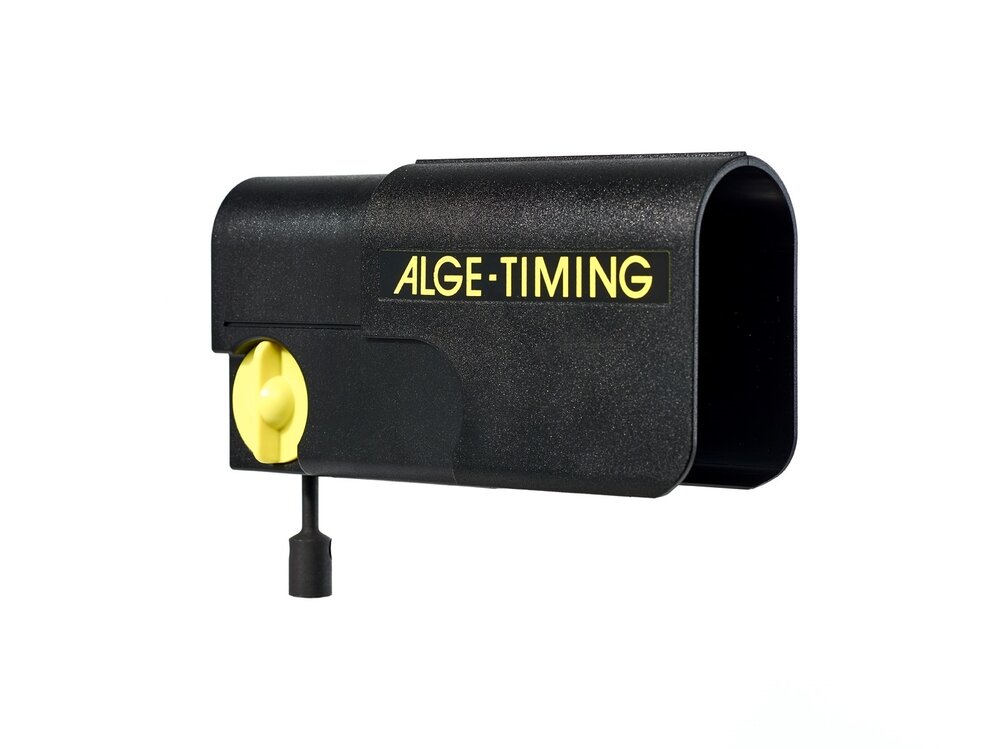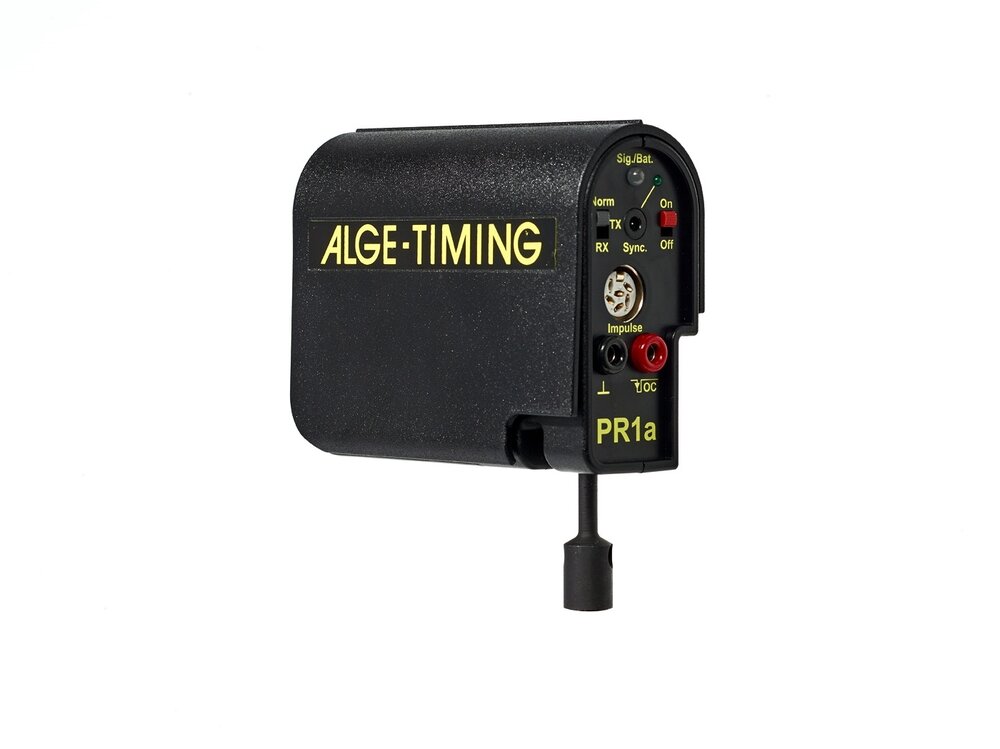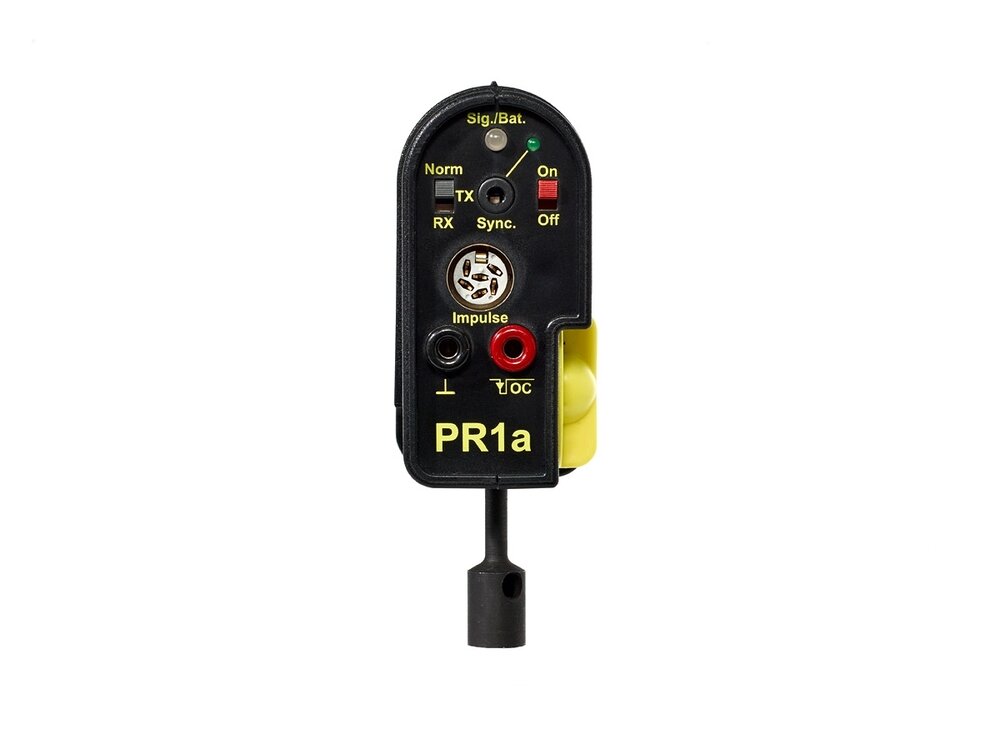 PR1A Photocell
Our photocell PR1a is a masterpiece of precision and performance with smallest possible dimensions.
The transmitter of the photocell sends a modulated infrared beam. The receiver checks the infrared beam and triggers an impulse for each interruption.
All photocells can be universally used with a reflector or as sender and receiver photocell.
The photocell is also available with integrated WTN radio module (2.4 GHz). The impulse transmission can be effected by radio and is compatible with all devices of the WTN series. Up to 15 different radio channels and 5 varying impulse channels are adjustable. The PR1aW can as well be connected by cable to the timing device.
With its rugged and weatherproof casing and extendable cover slide both versions can be used indoor and outdoor in all conditions without compromise.
impulse accuracy up to 1/10,000 seconds
possible to use as reflector photocell (25 m) or as sender or as receiver part (150 m/500 feet).
battery or cable powered
possibility to synchronize two senders for main and backup operation
possibility to adjust the delay time manually
models PR1a: without WTN module
models PR1aW: with WTN module
both models available in different sets with varying accessories or without any accessories
Downloads
Alpine Skiing - Newcomer
English (PNG, 638 KB)
Deutsch (PNG, 651 KB)
Alpine Skiing - MT1 + Backup
English (PNG, 473 KB)
Deutsch (PNG, 446 KB)
Whitewater Canoeing - MT1
English (PNG, 2 MB)
Deutsch (PNG, 2 MB)
Uphill Races - MT1
English (PNG, 2 MB)
Deutsch (PNG, 2 MB)
Mountain Biking - MT1
English (PNG, 3 MB)
Deutsch (PNG, 3 MB)
Rally - MT1
English (PNG, 2 MB)
Deutsch (PNG, 2 MB)
Ski Training - MT1
English (PNG, 260 KB)
Deutsch (PNG, 262 KB)
Alpine Skiing - Training with Radio
English (PNG, 88 KB)
Deutsch (PNG, 88 KB)
Alpine Skiing - Selftimer SF3
English (PNG, 192 KB)
Deutsch (PNG, 192 KB)
Alpine Skiing - Speed
English (GIF, 85 KB)
Deutsch (GIF, 87 KB)
Alpine Skiing - FIS Level 3
English (PNG, 549 KB)
Deutsch (PNG, 554 KB)
Alpine Skiing - FIS Level 2
English (PNG, 398 KB)
Deutsch (PNG, 405 KB)
Alpine Skiing - FIS Level 1
English (PNG, 349 KB)
Deutsch (PNG, 361 KB)
Alpine Skiing - FIS Level 1 + Intermediate Time
English (PNG, 328 KB)
Deutsch (PNG, 328 KB)
Alpine Skiing - Parallel
English (PNG, 390 KB)
Deutsch (PNG, 394 KB)
SSD1 - Parallel
English (PNG, 276 KB)
Deutsch (PNG, 319 KB)
SSD1 - Parallel + Delay
English (PNG, 362 KB)
Deutsch (PNG, 335 KB)
SSD1 - Cross
English (PNG, 119 KB)
Deutsch (PNG, 132 KB)
SSD1 - Team Cross
English (PNG, 144 KB)
Deutsch (PNG, 160 KB)
Bobsled
English (PNG, 492 KB)
Deutsch (PNG, 508 KB)
Luge - Natural
English (PNG, 238 KB)
Deutsch (PNG, 244 KB)
Cross Country Skiing - FIS Individual
English (PNG, 290 KB)
Deutsch (PNG, 290 KB)
Cross Country Skiing - FIS Pursuit
English (PNG, 436 KB)
Deutsch (PNG, 439 KB)
Cross Country Skiing - FIS Relay Mass Start
English (PNG, 372 KB)
Deutsch (PNG, 371 KB)
Cross Country Skiing - FIS Sprint
English (PNG, 254 KB)
Deutsch (PNG, 255 KB)
Freestyle Skiing - Aerials
English (PNG, 215 KB)
Deutsch (PNG, 216 KB)
Freestyle Skiing - Cross
English (PNG, 312 KB)
Deutsch (PNG, 312 KB)
Snowboard - Slalom Parallel
English (PNG, 414 KB)
Deutsch (PNG, 420 KB)
Snowboard - Cross
English (PNG, 341 KB)
Deutsch (PNG, 340 KB)
Snowboard - Slalom
English (PNG, 273 KB)
Deutsch (PNG, 277 KB)
Snowboard - Slalom FIS
English (PNG, 395 KB)
Deutsch (PNG, 400 KB)
Speed Skating - Radio
English (PNG, 328 KB)
Deutsch (PNG, 329 KB)
Speed Skating - Wired
English (PNG, 342 KB)
Deutsch (PNG, 343 KB)
Speed Skating - Pursuit
English (PNG, 345 KB)
Deutsch (PNG, 345 KB)
Short Track - Wired
English (PNG, 319 KB)
Deutsch (PNG, 324 KB)
Short Track - Radio
English (PNG, 332 KB)
Deutsch (PNG, 333 KB)
Whitewater Canoeing - Slalom
English (PNG, 310 KB)
Deutsch (PNG, 313 KB)
Whitewater Canoeing - Radio
English (PNG, 125 KB)
Deutsch (PNG, 114 KB)
Mountain Biking - Cross Country
English (PNG, 279 KB)
Deutsch (PNG, 282 KB)
Mountain Biking - Downhill
English (PNG, 266 KB)
Deutsch (PNG, 271 KB)
Mountain Biking - Downhill Radio
English (PNG, 336 KB)
Deutsch (PNG, 335 KB)
Road Cycling - Time Trial
English (PNG, 818 KB)
Deutsch (PNG, 827 KB)
Road Cycling - Photo Finish
English (PNG, 389 KB)
Deutsch (PNG, 389 KB)
BMX
English (PNG, 558 KB)
Deutsch (PNG, 559 KB)
Dog Agility - TIMY3
English (GIF, 373 KB)
Deutsch (GIF, 376 KB)
Horse Racing - Simple
English (PNG, 246 KB)
Deutsch (PNG, 248 KB)
Horse Racing - Advanced
English (PNG, 332 KB)
Deutsch (PNG, 333 KB)
Show Jumping - TIMY3
English (PNG, 404 KB)
Deutsch (PNG, 411 KB)
Show Jumping - Endurance
English (PNG, 228 KB)
Deutsch (PNG, 228 KB)
Autocross - Laps
English (PNG, 101 KB)
Deutsch (PNG, 103 KB)
Autocross - Speed Measurement
English (PNG, 130 KB)
Deutsch (PNG, 132 KB)
Automobil - Slalom
English (PNG, 156 KB)
Deutsch (PNG, 156 KB)
Rally - Level 2
English (PNG, 724 KB)
Deutsch (PNG, 726 KB)
Rally - Level 3
English (PNG, 995 KB)
Deutsch (PNG, 1001 KB)
Rally - Level 4
English (PNG, 1 MB)
Deutsch (PNG, 1 MB)
Alpine Skiing - Ski School
English (PNG, 216 KB)
Deutsch (PNG, 215 KB)
Alpine Skiing - Training with MT1
English (PNG, 260 KB)
Deutsch (PNG, 262 KB)
Snowboard - Cross Team
English (PNG, 381 KB)
Deutsch (PNG, 375 KB)
Autocross - Sprint
English (PNG, 421 KB)
Deutsch (PNG, 421 KB)
Athletics (Track & Field) - Acceleration
English (PNG, 216 KB)
Deutsch (PNG, 218 KB)